Before you download the phantom, please read and agree to the following conditions.

The conditions for using this dataset are that you:

refer to our original paper in all of your publications that use the phantom (thank you!): Zubal, I.G., Harrell, C.R, Smith, E.O, Rattner, Z., Gindi, G. and Hoffer, P.B., Computerized three-dimensional segmented human anatomy, Medical Physics, 21(2):299-302, 1994.
do not pass along any part of the phantom to anyone else (they can download a copy directly)
can modify the phantom freely for your *own* use, but I (and Yale University) do not allow you to pass any parts of the phantom along to anyone else, with or without your modifications
do not "sell for a profit" any product that actively uses our phantom; our phantom data is "free-ware" and cannot be used for commercial business.

By accessing the download site or downloading this data, you agree to the above conditions.

Use the following account and password to access the download site: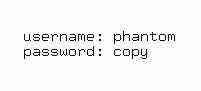 Having agreed to the above conditions, you may now proceed to the download site: Zubal Phantom Data.